Central Cinema Rebrand
Branding, Creative Direction
Tools — Indesign, Photoshop, Illustrator, After Effects
Solo
12 weeks

---
Problem
For 12 years, Central Cinema has entertained locals. The owners, Kate and Kevin Spitzer used their love for movies to transform a warehouse into a theater with a cafe and kitchen. The movie industry has changed substantially since then. Movies are very accessible through online platforms and more local competitors have opened. Within Seattle, there are five other independent theaters showing alt films, and three of these five serve alcohol and food. My challenge was refreshing their current look, making Central Cinema stand out among its competitors and speak to the attributes of the brand that their regulars already love.
Concept
Central Cinema is Seattle's only independent theatre that offers full dine-in service, diverse programming and recurring interactive events. Like a classic cult movie, they have a dedicated following of local movie lovers. Whether it's the first visit or a weekly ritual, it's an open invite for all. I created a brand to fit Central Cinema's Unconventional, Casual and Fun personality. These key adjectives are used to emphasize Central Cinema's community cult-like following.
Solution
The new Central Cinema brand has an inviting cult nostalgia, with warm 70's inspired colors & shapes and a friendly familiar typeface. The imagery was inspired by iconic movie scenes and collaged elements to create the feeling of irreverence and coming together. The style of the bold iconography and graphic elements call to the following of cult classics. The playful, inviting language is about bringing newcomers in. These brand elements allude to the following that anyone can join by coming to Central Cinema.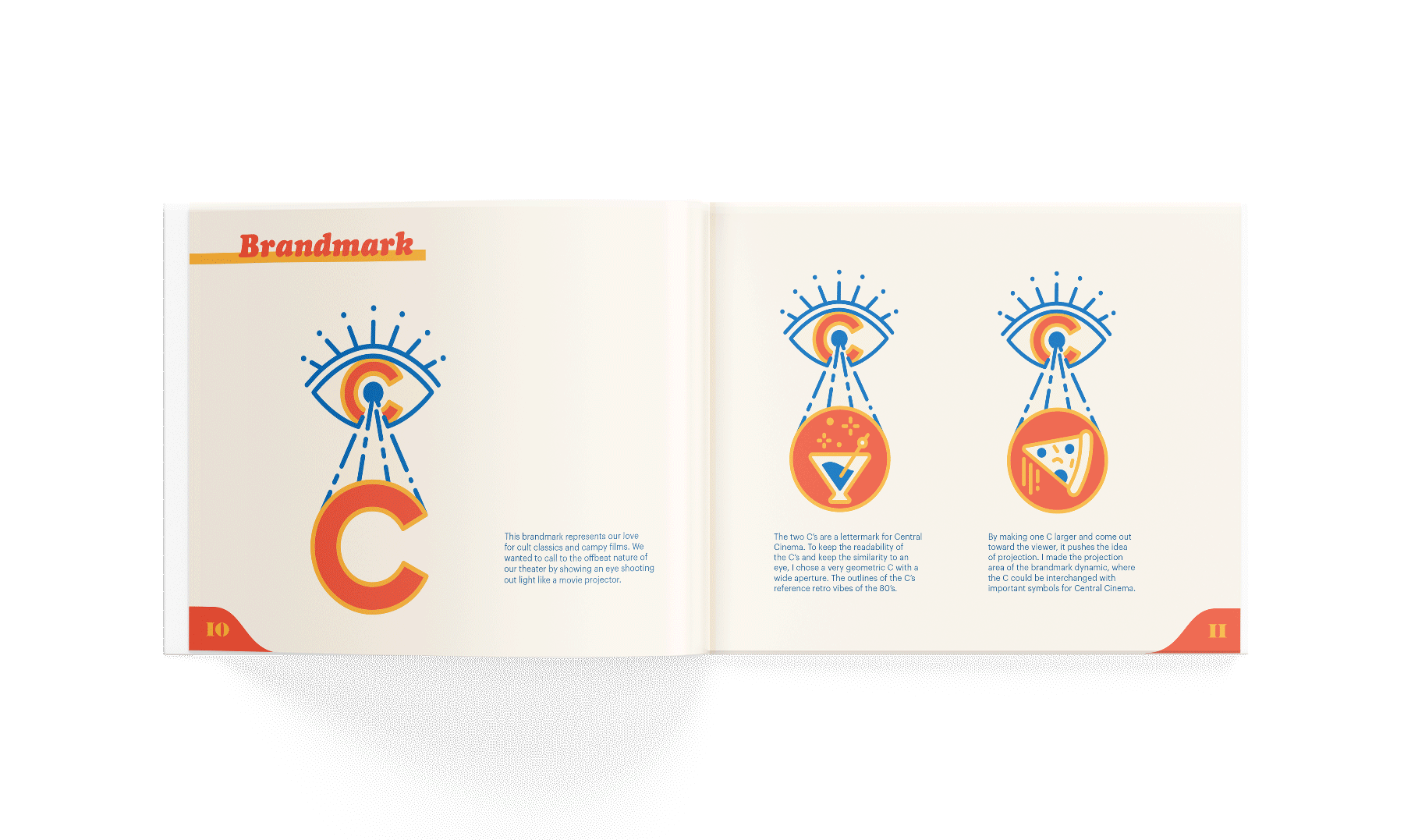 Positioning
Our cinema house is chosen for it's full bar and food program, interactive events, it's ability to foster local community as a vital part of Central District and diverse programming.
Uncovering the Brand
In a group brainstorm of picture association, we distilled the brand down to three adjectives: Unconventional, Casual and Fun. Each word has a list of associated subwords related to the brand. The core adjectives were used to further research visuals for the brand.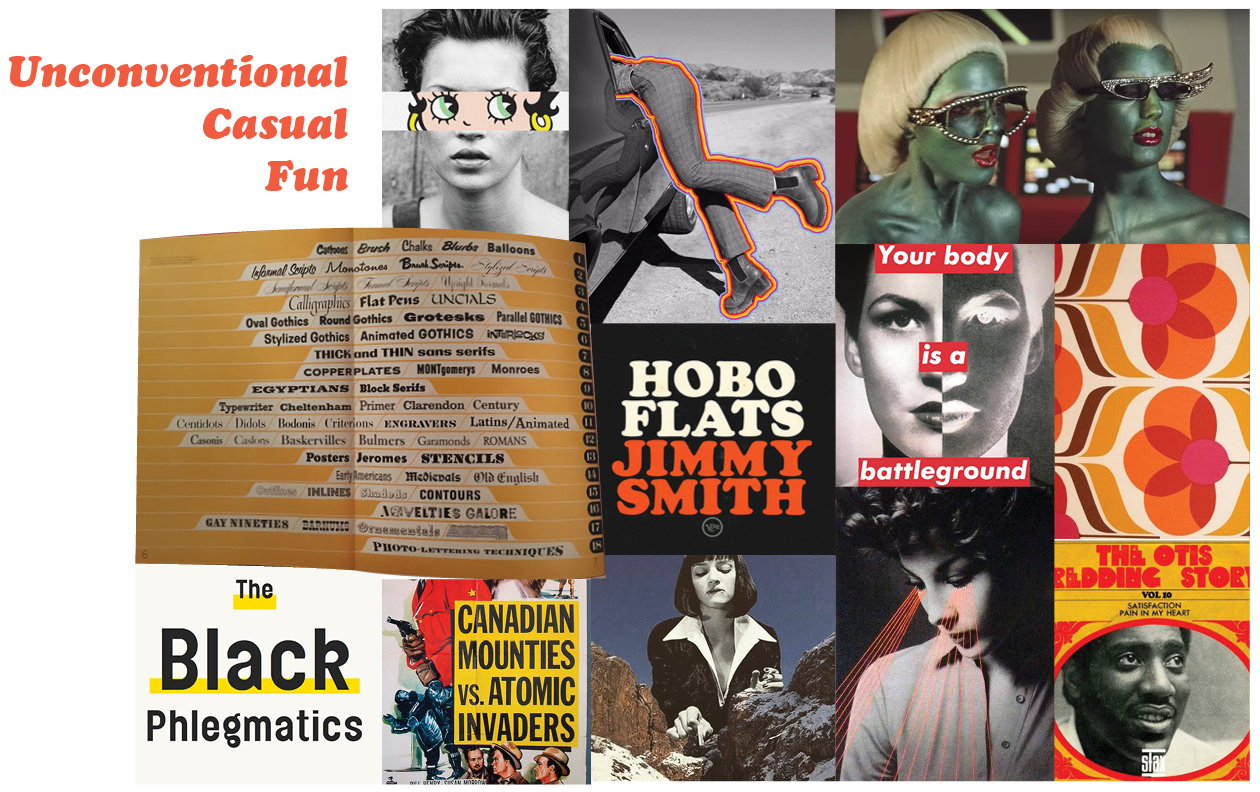 The Visual Language
Taking visuals from each core adjective was distilled further into one moodboard that guided my visual concept for the new Central Cinema, Join the Following.
Let the Eye
Guide You
This brandmark represents Central Cinema's love for cult classics and campy films. I wanted to call to the offbeat nature of the theater by showing an eye shooting out light like a movie projector.

The two C's are a lettermark for Central Cinema. To keep the readability of the C's and keep the similarity to an eye, I chose a very geometric C with a wide aperture. The outlines of the C's reference retro vibes of the 80's.

By making one C larger and come out toward the viewer, it pushes the idea of projection. I made the projection area of the brandmark dynamic, where the C could be interchanged with important symbols for Central Cinema.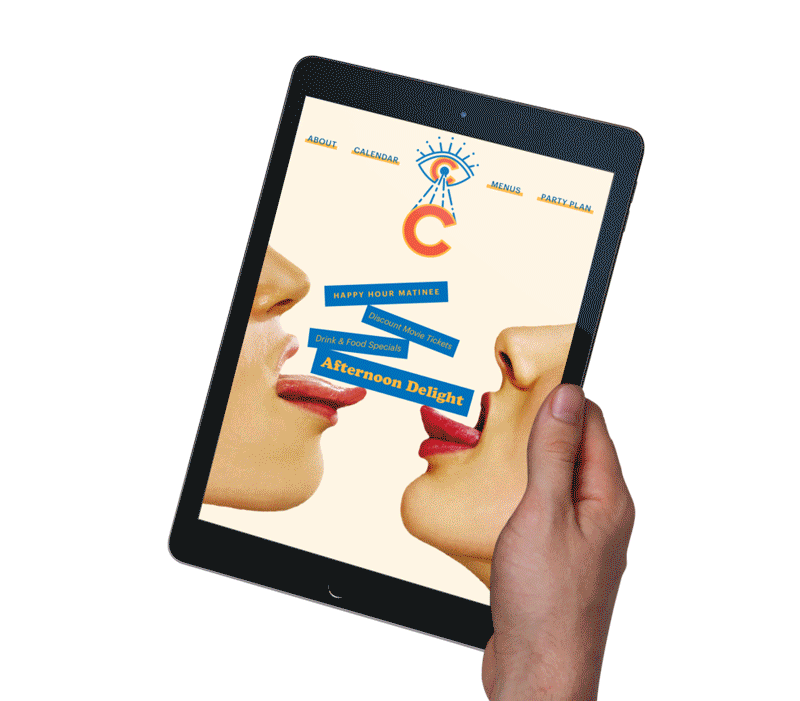 Brand Elements
Color
Inspired from 60's & 70's TV shows, movies and prints.

Line & Shape
Thick lines and blocks for text are used to create emphasis and differentiation with photography. The angled shape is inspired from a 70's Pattern.



Typography
The typography is bold, friendly and has a retro feel.

Imagery
The imagery I've have chosen is striking, nostalgic, collaged, campy and culty. The best collages happen when cut and glued by hand, so I did almost all of these that way and scanned them in.